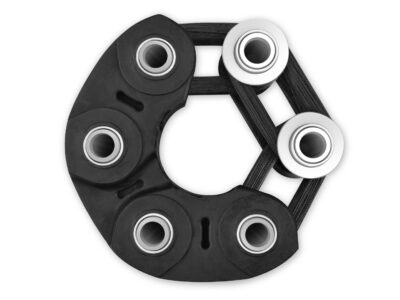 The flexible shaft joint (flexible disc, flexible rubber joint) is an element that usually consists of a rubber disc, metal bushings and an internal braid. It is placed between the shaft and the transmission. It provides vibration damping and a limited mobility. This element, like other components of the propeller shaft system, is exposed to high overload. You can read more about flexible joints in our post: Rubber elements in the rear propeller shaft.
We are manufacturing flex discs in various sizes and types, designed for automotive as well as for industry.
Below is a list of examples of flexible discs available in our offer. The entire offer and application details can be found in our free online catalogue by clicking on the picture of a given element or at: www.katalog.tedgum.pl.
TED12249
The above items are only an example of the list of flexible driveshaft discs available in our portfolio.