The second generation of Jeep Cherokee was presented to the world in 1984. The classic, extremely recognizable silhouette made this model is still a popular choice among second-hand offroaders. It is true that the vehicle debuted as one of the first representatives of the SUV segment. And all this happened at a time when these vehicles could actually be used in the terrain, which is not so obvious today.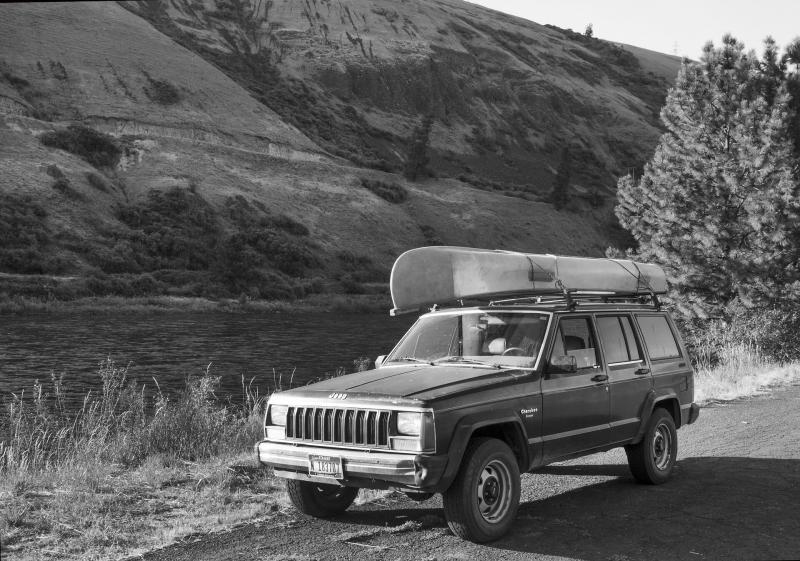 Popularity of Cherokee XJ
Jeep has had its die-hard fans for many years. Finally, Cherokee XJ was produced in almost three million copies. This model was also very well received in Europe, where it was a kind of response to Range Rover. Thanks to it, Europeans are convinced thereselves to drive off-roaders every day, and not only when living in remote places.
The angular silhouette did not mean a poorly equipped vehicle – the car competed in this respect with the previously mentioned Range Rover. The car itself is well equipped compared to the competition from those years, the interior looks quite simple and the plastic reigns in it. However, this has its unique charm and matches the off-road character of the vehicle.
Which version to choose?
The car can be bought in 3- and 5-door versions. The choice of power units is quite large: from a capacity of 2.1 liters to 4 liters; in a range of 4 or 6 cylinders. Particularly noteworthy is the variety with a 4-liter gasoline engine, which is a relatively simple and bulletproof design, even resistant to flooding. A 2.5 liter diesel was also offered, which does not have the best opinion. It is an Italian construction with a rather unusual structure – the cylinder head itself is composed of four elements arranged next to each other. Interestingly, the design of the engine is based on the power generator engine.
Jeep Cherokee XJ can be purchased with a manual or automatic gearbox. It is true that not every engine unit was available with every type of transmission. For example the 4-liter engine unit was only offered with the automatic. When it comes to the 4WD, there were two solutions: Selec Trac and Command Trac. The first one offers greater possibilities: in addition to choosing between 2WD and 4WD modes, it allows blocking the central differential in the terrain. In addition, thanks to a separate mode we turn on the transfer case "Crawling gear". Command Trac offers fewer options – it only allows the use of a 2WD or 4WD drive, which the 2nd one is only intended for driving on slippery surfaces.
Jeep Cherokee XJ in Offroad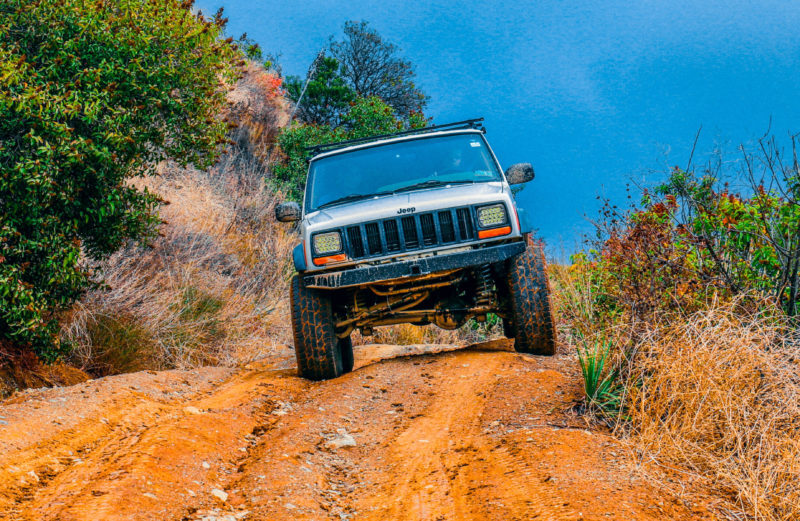 Interestingly, the Jeep Cherokee is a unibody construction. It is a durable solution, but it does not achieve such rigidity as body on frmame solutions that are found in most competitors. When preparing the vehicle for the Offroad, the standard swingarms are often replaced with thicker ones, because the original ones are quite weak. Many people also decide to rebuild the rear suspension structure, where they replace the leaf springs with a set of springs and swingarms. However, this is a very expensive solution and it is not easy to implement, and it is also a construction design change of the vehicle and may not be legal in your country. For this reason, it is worth staying with the original solution and consider replacing all rubber elements with polyurethane ones, as they often get damaged in this vehicle. Bump stops can also be replaced with polyurethane ones.
Polyurethanes for Jeep Cherokee XJ
We have in our offer sets of bushings for front as well as for rear suspension. It is also possible to buy every element separately.
Front suspension bushings set TED41260:
Polyurethane rear trailing arm bushing – 4 pieces (70 ShA)
Polyurethane upper control arm bushing – 4 pieces (70 ShA)
Polyurethane front control rod bushing – 1 piece (90 ShA)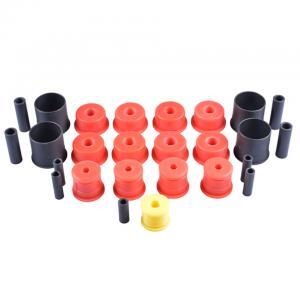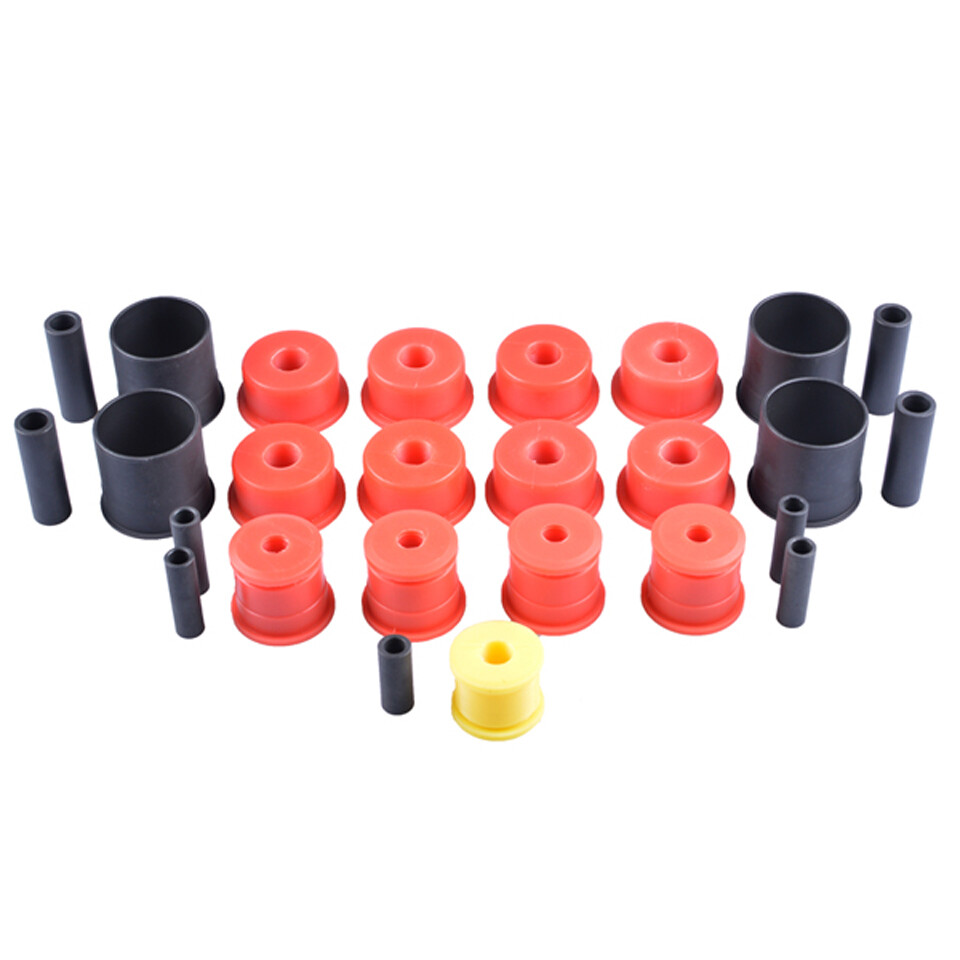 Rear suspension bushings set 01149958: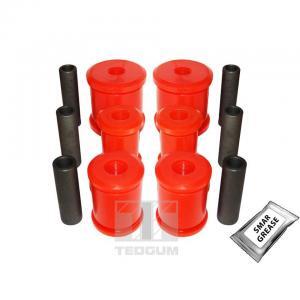 Front suspension bushings set (70 ShA)
Polyurethane rear leaf spring bushing (front) – 2 pieces (70 ShA)
Polyurethane rear leaf spring bushing (front, to carbody) – 2 pieces (70 ShA)
---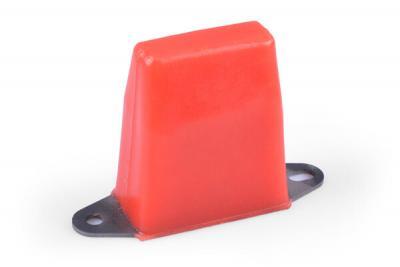 Additionally there is polyurethane rear leaf spring bump stop available in offer (L = R) TED36920