What is the refurbishment of rubber products?

Refurbishment of rubber products consists in recovering a core from the original product, which will be used to make a new element. In the case of metal-rubber elements, it is the rubber that is most often exposed to damage and is the first to show signs of wear. Very often, the metal element is in a good shape or only dirty, or slightly corroded in external (visible) places. In the case of replacing the original element with a new one, the first one must be completely thrown away, which is both unfavourable for the environment and often, especially in the case of less popular products, economically unreasonable. In our offer can be found elements that are marked with a sign consisting of 3 green arrows.
Remanufactured items have the same properties as original items.
How does refurbishment is proceeded?
The refurbishment process is shown in the diagram below: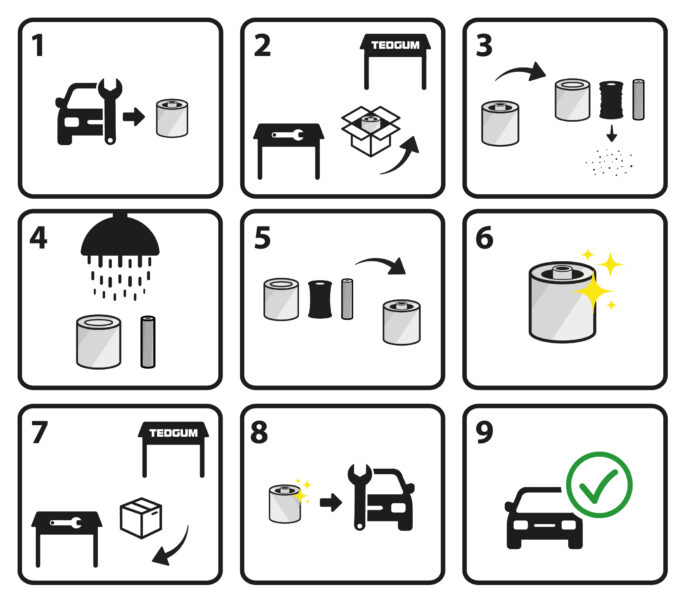 The original element must be removed from the vehicle in such a way that the housing and other elements that will be used to refurbish the product remain undamaged.
The element must be delivered to our company. Please remember to contact us before shipping any item to arrange the details of the item.
The delivered element is dismantled, and the used rubber item is removed.
The metal core elements are cleaned and covered with a protective coating so that it stays like new longer.
The new rubber is vulcanized with metal parts.
The new element is ready
The item is sent back to the specified address of the orderer.
Install the refurbished element in the vehicle in the same way as the original item was installed.
Repair is done.
What do the refurbished products look like?
Below, we present some examples of products that have been refurbished: