What are suspension bushings?
The suspension is one of the most important and the most damaged parts of the vehicle. This mainly applies to suspension arms, and above all, suspension bushings (also known as silent blocks), i.e. metal-rubber elements, are susceptible to damage. Despite the relatively small dimensions, a lot depends on them. Absorbing vibrations caused by uneven road surfaces, damping suspension noise, and maintaining vehicle geometry and toe-in are the daily tasks of the wishbone bushings. It is essential that the materials used in the production of these elements are resistant to multiple stresses in changing weather conditions.
Suspension bushings usually consist of 3 elements:
a metal inner bushing through which the mounting bolt passes
active rubber part, whose task is to dampen vibrations
a metal outer bushing that "holds" the sleeve in the seat of the rocker arm
Suspension bushings come in various variants and do not always consist of the above-mentioned 3 elements (they can be only made of a rubber element, or in the case of UNIBALL connectors, they can only consist of metal elements), or they may contain additional elements and have unusual shapes.
Over 25 years of presence on the market of vehicle suspension components meant that we have the necessary knowledge that is needed to create durable bushings, which at the same time ensure travel comfort. Thanks to many years of experience, we are able to provide repeatable parameters of our products. Reliable driving, comfort and safety are the common denominator of our products.
What are the types of suspension bushings?

What are floating bushings?
Floating bushings – these are bushings with a specific structure. Pressure from one side of the sleeve causes the bushing to lift on the other side. The inside of such a bushing is a spherical shank which rotates on the surface of the outer bushing. These bushings are especially sensitive to the pressure of the inner part, as we mention in the article: A floating bushing replacement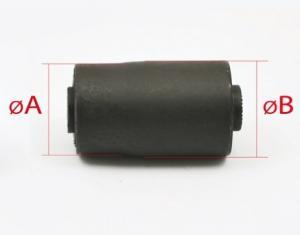 What are stepped bushings?
Stepped bushings – these are bushings that have different outer diameters (on one side of the bushing the diameter is larger than on the other). In the case of these bushings, particular attention should be paid to replacing them because pressing the bushing with the wrong side may damage the rocker arm socket and thus damage it. We write more about this type of sleeve in the article: Correct way of stepped bushing repacement