Order bushings separately or in a kit?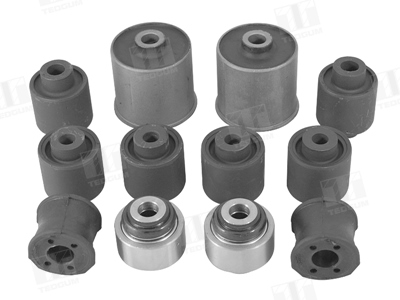 The selection of suspension elements is a time-consuming activity that does not always guarantee success. Ordering the suspension bushings separately may entail the risk of mistakes and missing elements. The entire suspension set provides all elements that should be replaced at once.
Ordering a set by providing one product code also facilitates placing an order and minimizes the risk of mistake. It is especially advantageous in multi-link suspensions, where the complete set includes several different elements. TEDGUM sets are a convenience and a guarantee of a good selection of elements. Suspension kits also save time and money.
What do the TEDGUM kits contain?
The bushing kits are designed to facilitate the selection of suspension elements, which is to facilitate the completion and installation of all parts. However, in some cases, creating the entire set may be difficult due to slight differences in the suspension depending on the model version. The most common differences relate to the anti-roll bars, so most often they are not included in our sets and should be selected separately, which will be extremely simple using our catalogue. In the notes to the stabilizer bushings, there is information about the bar diameter. Before ordering, it is enough to measure the stabilizer bar and order the appropriate set of rubber bushings. Sometimes the differences relate to other bushings and in these cases, such bushings do not contain "problematic" elements, which should be ordered separately, or 2 different kits are offered that differ in these bushings.
The kit can include front suspension bushings, rear suspension bushings or bushings that make up the complete suspension of a given model.
How do I find the bushing kit number?
1. Make selection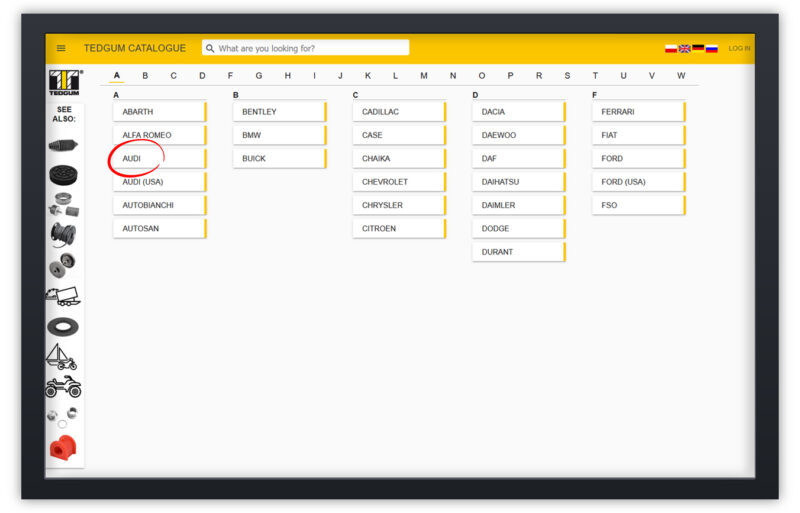 3. Choice of year (and version)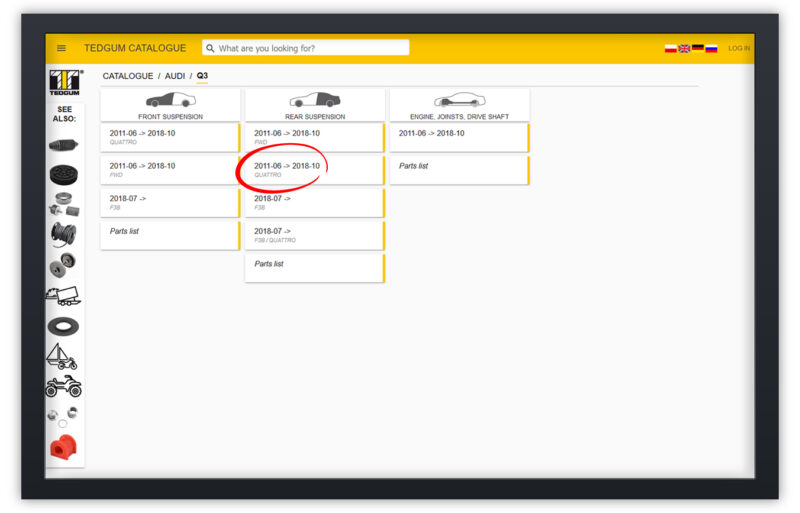 4. Kit selection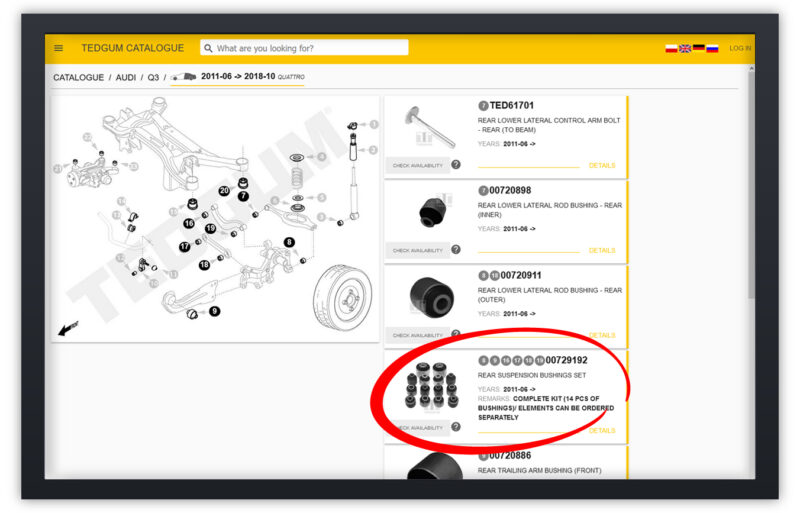 5. Suspension kit details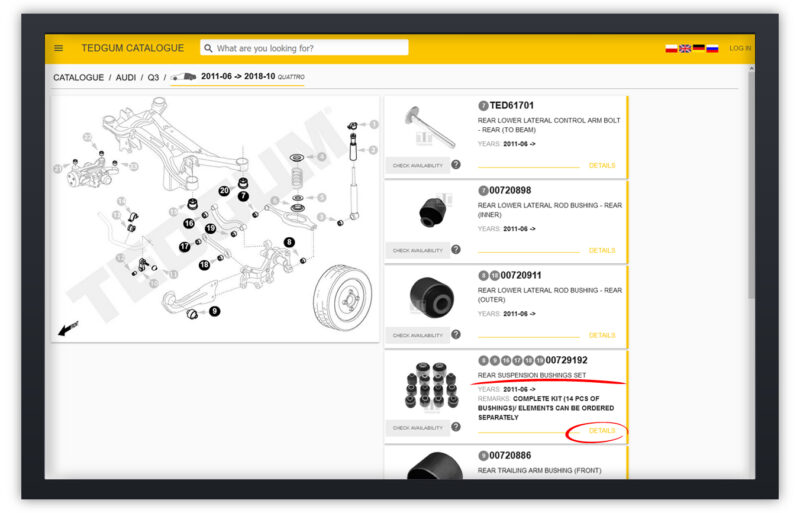 6. Components of the suspension kit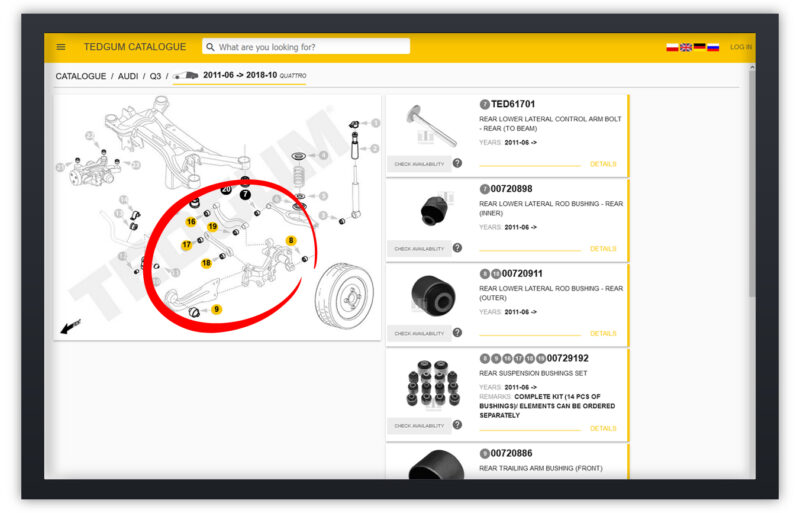 7. ID of the suspension kit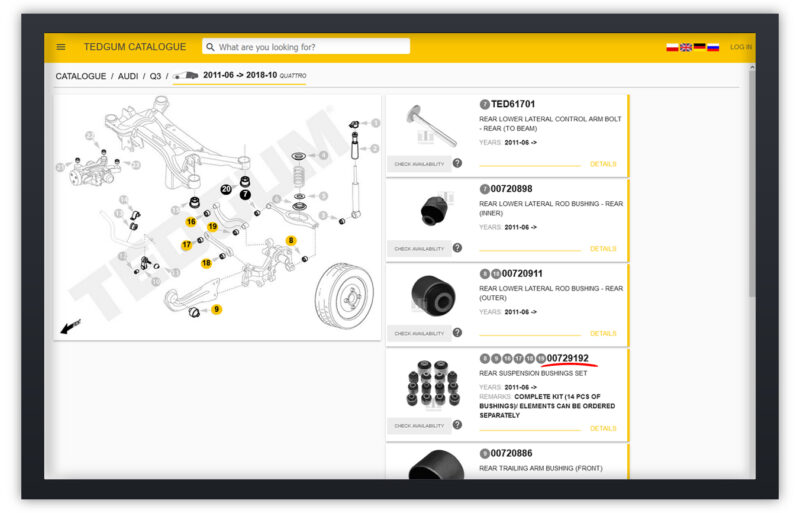 To find suspension repair kit, visit our free online catalogue at: https://katalog.tedgum.pl/