Many years have passed since the events of July 1947. According to many witnesses, an unidentified flying object crashed in Roswell, New Mexico. To this day, it is uncertain whether this event really happened. One of the conspiracy theories says that the object was taken and transported to Area 51 in Nevada, where it is kept to this day. What really happened that day in Roswell? We don't know. We know, however, that one of the popular cars is strongly associated with unidentified flying objects. More about Roswell incident can be found on Wikipedia.
Year 2005, the Frankfurt motor show is just taking place. In a moment something will forever change the perception of the extremely popular model of one of Japanese car producers. The premiere of the eighth generation Honda Civic is just taking place. In Europe, this vehicle will get the common name "UFO". The nickname will be caused by the characteristic body line.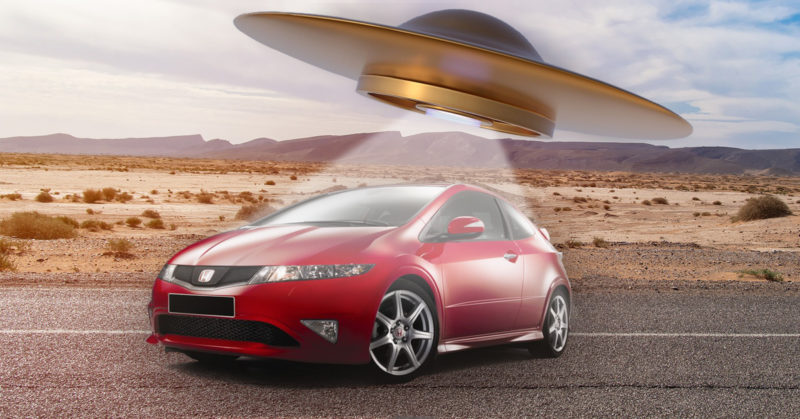 The recurrent theme of this car is futurism, which in 2005 was a considerable attraction. This applies to the body as well as the interior. Like a vehicle from the future, we start the car by pressing a button. What the driver looks at while behind the wheel can be described as a cockpit of space shuttle. Even nowadays the dashboard style still looks fresh and futuristic, despite the passage of time.
Various versions of the model
Depending on the region of destination, different versions were offered. A hatchback was designed for Europe, and a sedan and a coupe for the United States and Japan. In Europe, the car was available from 2006. In the same year the vehicle won the title of North American Car of the Year. Interestingly, in the United States of America, the eighth generation of Civic was offered a year earlier.

The power plant lineup was dominated by gasoline units. The engine that opened the list was the eight-valve 1.4 liter unit with 83 horsepower. In a vehicle with a total weight of around 1,200 kilograms, it did not provide overwhelming performance. The 0-100 km/h was reached in a time of about 15 seconds. It is probably one of the reasons why this engine has been modernized after face lifting. After year 2009, this engine was using a 16-valve head. The power was increased and it offered a horsepower of 100. Acceleration improved, but it was still difficult to call it "fast."

The most popular drive unit is 1.8 liter one. It provides smooth acceleration of about 9 seconds to the first one hundred kilometers per hour. All thanks to 140 horsepower that the engine is capable. In addition, it provides an acceptable fuel consumption. The top version is called "Type-R". The two liter engine of it is a highly revving unit that offers 200 horsepower. It is worth mentioning that this is a naturally aspirated unit — it does not have any supercharger or a turbocharger.

There was also a hybrid version: it combined gasoline 1.3 liter unit and an electric motor. The first offered 95 horsepower, and the second one – 20 hp. As for alternative drive unit, there was also a version powered by a natural gas, which was offered only as a sedan. This version was called GX. In the United States you could also buy a Civic Si. It was equipped with a 2-liter gasoline engine with 189 or 197 horsepower depending on a production year.
For 5 years of production of this model, only one diesel unit was offered. It was a four-cylinder engine with a capacity of 2.2 liters, which was designed for the European market. The whole engine was made of an aluminum, it was also equipped with Common Rail injection system and a dual mass flywheel. The unit is known for fairly good durability, but some engine components may need to be replaced at a higher mileage. Although, these repairs are typical for modern diesels and as in any case a lot depends on the driving style.
Steering and suspension
We must be honest in this matter — the 8th generation of Honda Civic rarely visits the workshop for a reason other than replacing fluids and consumables. It is a really durable construction, but it is not without flaws. Let's also remember that we describe a vehicle whose oldest models are almost 15 years old.
Eight generation Civic owners report failures of front shock absorbers bump stops. Especially it occurs in cars from the beginning of production. In many cases, this element was replaced under the warranty of the vehicle. In addition, at higher mileages, there may be knocking on the front suspension by looseness on metal-rubber elements. The most common cause of this issue is worn anti-roll bar links. When replacing them, it is also worth checking the condition of the anti-roll bar rubbers and replacing them if necessary.
We also need to remember that a lot depends on the version of the body we have. The hatchback and coupe have a torsion beam on the back, which is basically maintenance-free. The sedan is equipped with a multi-link suspension, which is not a trouble-free solution. Suspension schemes for both versions can be easily found in our catalog.
The use of the torsion beam increased the luggage space and enabled the use of the "magic seats" system, which allows to effectively use the luggage space. Although the car has a simple rear suspension design, its tuning is at a high level. The vehicle remains neutral in corners, even at high speeds. The driver feels confident while driving. It meets the expectations of people who likes to feel a bit of the adrenaline rush from time to time.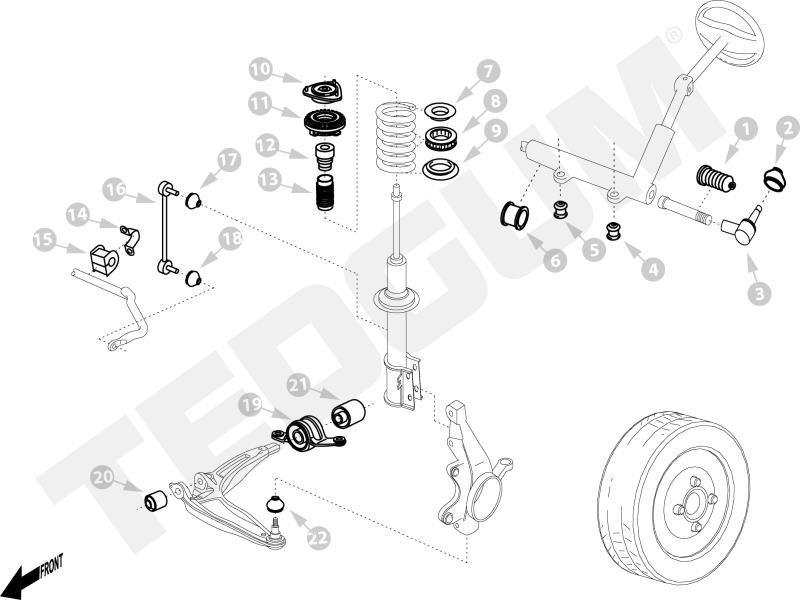 The sedan version of Honda Civic VIII also has a different front suspension design. The swingarm has a completely different design and its mounting points are in different places than in a coupe or hatchback. In both cases, the MacPherson strut is used.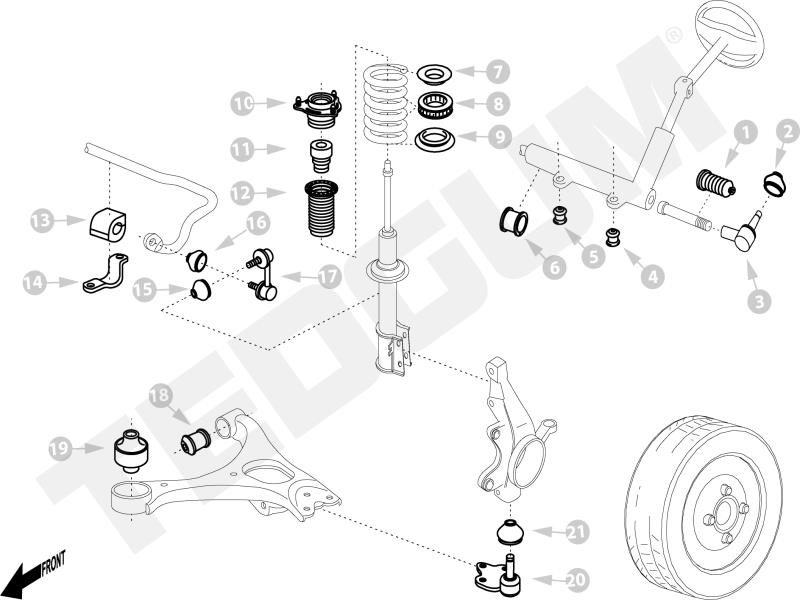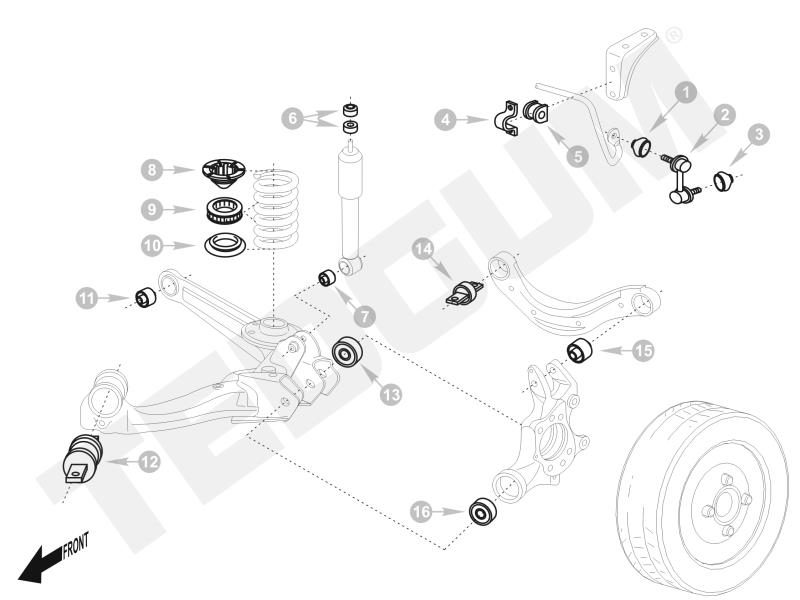 In 8th generation of Honda Civic, the design of shock absorber mounts is a very interesting case. They are made of polyurethane as standard. Polyurethane is a material that has a greater hardness than rubber, and also has a different vibration damping characteristics. This is another factor that improves driving confidence.